Exciting news is coming to the Wing Fight family!
If you're a martial arts enthusiast looking to take your skills to the next level, we have an incredible surprise for you. Join Víctor Gutiérrez on his upcoming journeys around the world to practice Wing Fight in some of the most breathtaking locations on the planet!
Soon, we will be offering this option to WingFight enthusiasts. The first stop will be the beautiful city of Rome, where you'll have the opportunity to join Víctor Gutiérrez on a unique and thrilling adventure.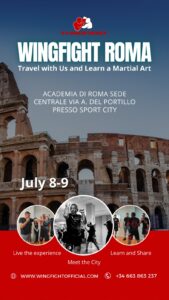 But if you can't make it, don't worry, we'll soon be visiting many other places. For example, the paradise island of Tenerife, Spain. You'll train with the stunning backdrop of the Atlantic Ocean and further enhance your WingFight skills.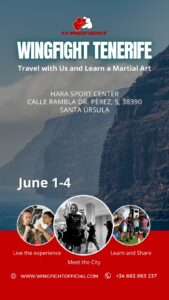 What better way to improve your WingFight abilities than by practicing and honing them in the best places in the world, guided by an experienced and passionate instructor like Víctor? This is a unique opportunity to enhance your skills and explore new locations at the same time.
If you're interested in joining us, please get in touch for more information. You can call us at +34-674-042-056 or send us an email at info@wingfight.com.
Don't miss this unique opportunity to learn and explore the world of WingFight with us.